Posted on September 21, 2023
My Sizzling Summer Sojourn in Prince Edward Island
I'm finally settled in back home in Nova Scotia, so that means I can write a little bit about my recent trip to PEI this past month!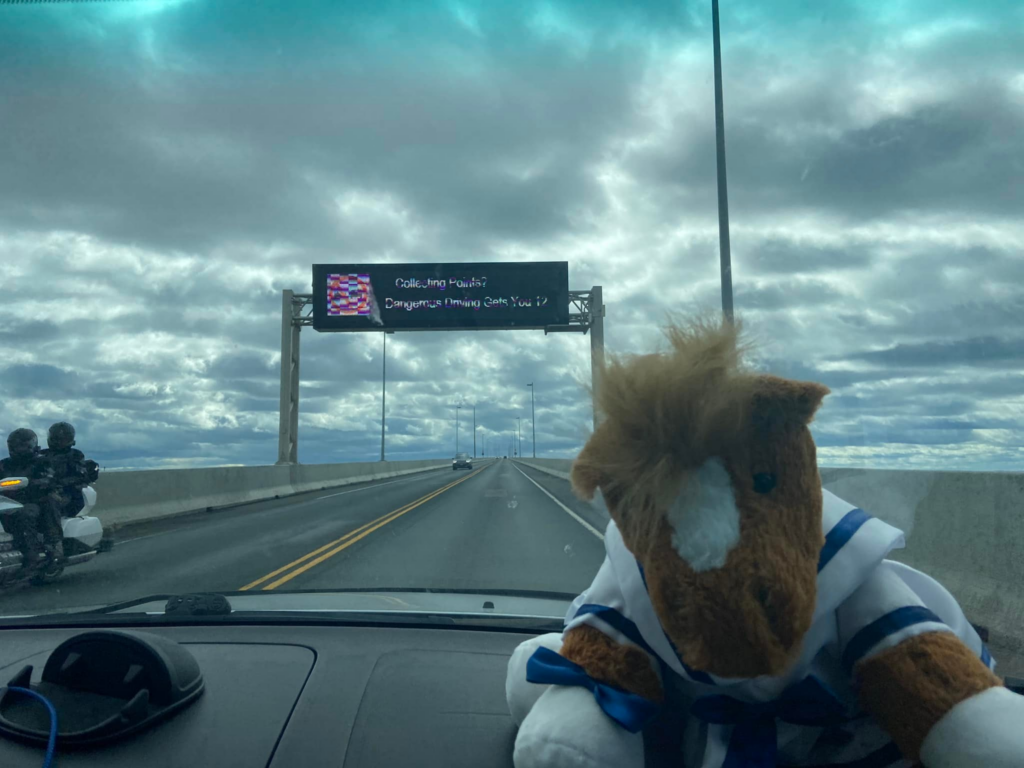 Our journey commenced with a touch of excitement, slightly heightened by a minor hiccup – some car troubles, which, I assure you, were nothing more than a fleeting inconvenience on my partner's part. Added to this mix was a touch of healthy skepticism from my parents. However, on the memorable date of Monday, the 21st of August, we embarked on our adventure to Prince Edward Island, bidding farewell to Caribou, NS, and boarding the Northumberland Ferry en route to Wood Islands, PE. The ferry ride was uneventful (which is a good thing!) and while waiting to depart, we saw a few other license plates that were also from the United States.
It's kind of funny, I remember many a time during my travels, whenever I'd see a license plate from America I'd have this stereotypical tourist image in my head ESPECIALLY whenever I see a US plate in any of the Maritime provinces, and I found myself wondering whether they held a deep disdain for the place, were contemplating a move to Canada, possibly even envisioning a grand "Great American Exodus," or perhaps entertaining the notion of annexation. But that's another story.
Prince Edward Island possesses a unique charm that sets it apart from the other provinces I've had the pleasure of visiting (a count that now stands at 9 out of 10, in case you're wondering). Without a doubt, PEI has captured my heart as my ultimate favorite. It exudes a rustic allure, boasting picturesque farms and thriving agriculture, not to mention the finest culinary delights in all of Canada (more on that later). The experience becomes all the more enchanting when shared with someone special (wink).
Finally, we reached our Airbnb, our cozy sanctuary for the entire month. The house welcomed us with its ample space, boasting two bedrooms, a single bath, a charming open-concept living room and kitchen area, and, of course, the pièce de résistance – a tastefully furnished basement. My affection for basements knows no bounds, and this one served as our versatile haven. It became our dedicated workspace, a haven for making phone calls or attending virtual meetings, ensuring we could manage our professional commitments seamlessly.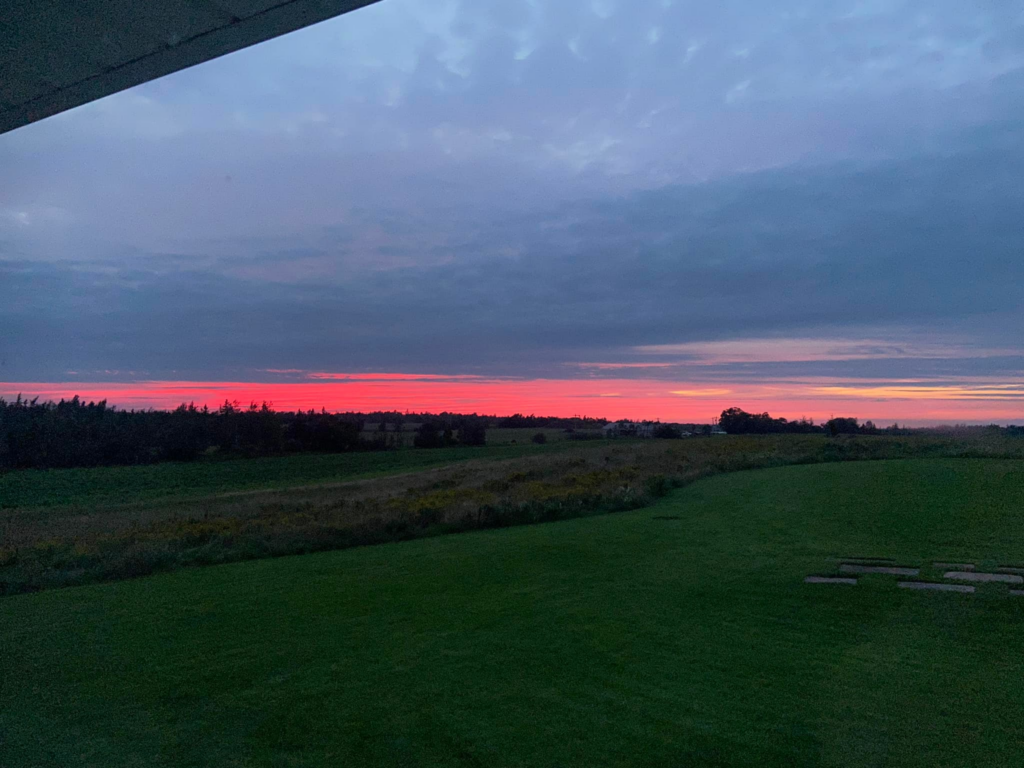 Now, instead of listing off all the events of the trip in chronological order, I'm instead going to departmentalize them, because to be honest, some of the days blended together just a little bit (in the best way possible).
THE BEACHES.
I'm not sure if this is an islander thing, due to the fact I grew up on Cape Breton Island, but their beaches can barely compare to the ones on PEI. If a beach lacks in seaweed and rocks, it automatically gets a thumbs up in my book.
BASIN HEAD.
Just a quick 15-minute drive from Souris, you'll find Basin Head Provincial Park, the ultimate beach destination. It's got all the beachy must-haves – bathrooms, changing rooms, showers, a handy foot wash station, and even an ice cream hut for those sweet cravings.
This beach is all about soft, white sands, and the water? Well, that depends on the weather. Sometimes it's all calm and serene, and other times you'll catch some seriously huge waves for a wild ride. There's a cool pier you can jump off of, adding an extra dose of fun.
If you hit the beach at the right time, you can also watch the ferry drift by at its own leisurely pace, adding a dash of picturesque charm to your day.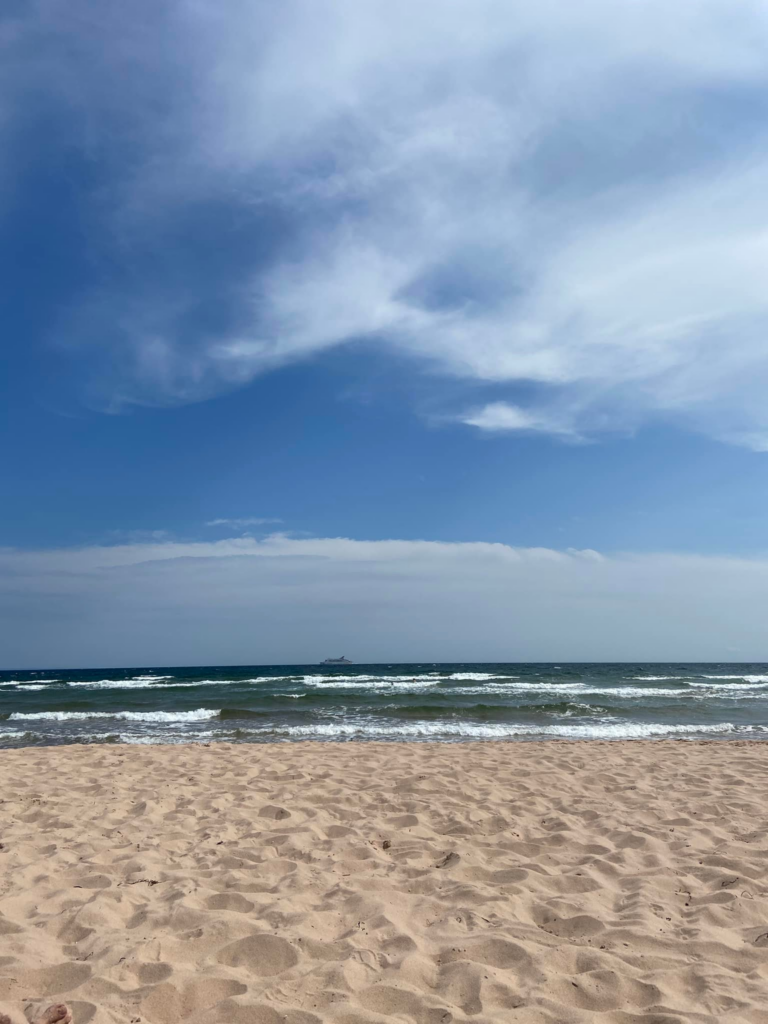 RED POINT BEACH.
Red Point sits right alongside Basin Head, just a stone's throw away from Souris. We only managed a peek at Red Point during a rainy-day drive, but I've got a hunch it's every bit as delightful (maybe a bit less wavy, though) as Basin Head.
Red Point comes packed with its own attractions – there's a trailer park, campground, playground, and a scenic walking trail to explore. And, of course, we can't forget the seagulls – they seemed to be having a blast taking in the view too!
THUNDER COVE BEACH. (rest in peace teacup rock, always in our hearts)
Thunder Cove was quite the adventure. When we arrived early in the afternoon, I was immediately swarmed by these tiny black beetles – they were everywhere (If I had to make an assumption, I'd say they were pollen beetles)! We quickly doused ourselves in bug spray to keep them at bay. The beach features a large cliff that stretches across its expanse, which we decided to venture down. My partner even had the bold idea to take his kayak for a spin in the ocean. Kayaking in the open sea proved to be a bit of a challenge, but we certainly satisfied our thirst for aquatic fun.
What really stood out were the enormous waves that kept pushing me back onto the shore. After our day at Thunder Cove, I can assure you I slept like a log.
Thunder Cove lived up to its name, and a storm began to brew. During our aquatic escapade, our umbrella decided to embark on a solo journey down the beach, taking a few knocks along the way. We hastily packed up and left the beach, a bit sandy but with memories of great fun that made it all worth it.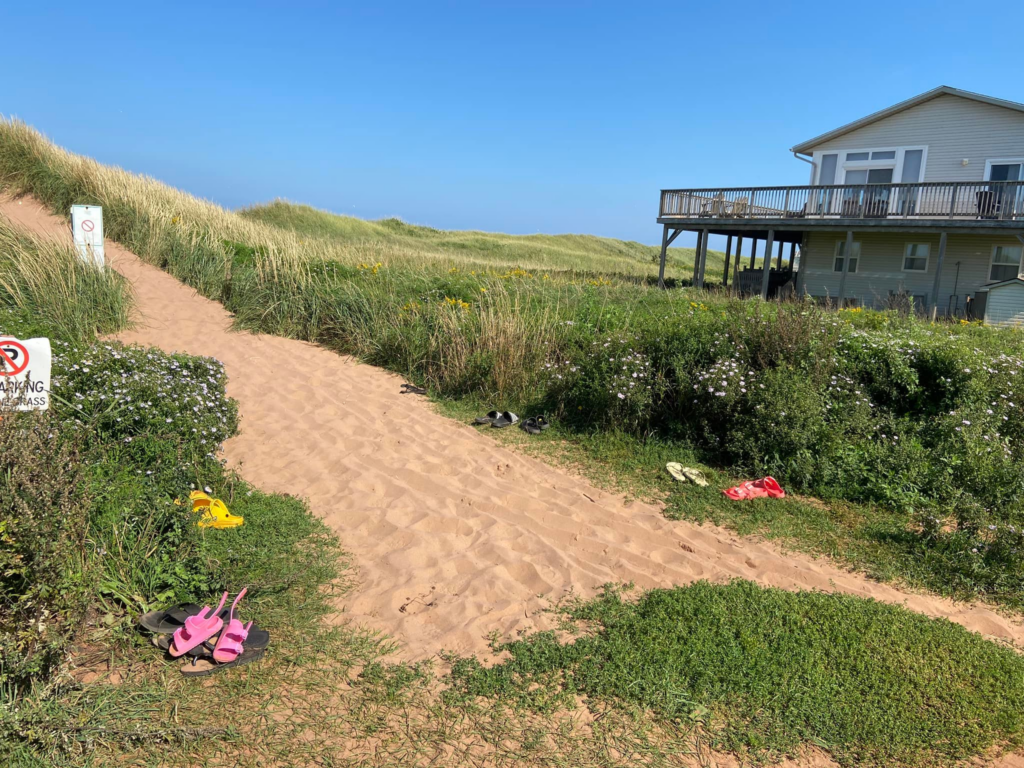 CHELTON BEACH.
Chelton Beach proved to be a charming little spot, offering a lovely view of the Confederation Bridge. While the waters here may not have had the crystal clarity of some other island beaches, they take pride in being some of the warmest, and I can vouch for that! The only minor downside was the abundance of seagrass. Not seaweed, which I also dislike, but full-blown sea GRASS. Go to jail!
As the tide began to roll in (with a few other beachgoers' chairs getting a bit wet, although they were happily seated, so no need for panic), we discovered one of the best features of Chelton Beach – the hot showers. Both of us made the most of this delightful amenity, and truth be told, I was almost tempted to stay there forever! But alas, all good things, even a heavenly shower at Chelton Beach, must eventually come to an end.
GREENWICH BEACH.
Greenwich Beach was another one of our stops, and it turned into a full-day beach adventure! We kicked things off with a pleasant hike to the sand dunes and back, taking in the natural beauty along the way. Afterward, we hit the waves at Greenwich and settled in for a couple of hours of pure relaxation. We did a bit of everything – reading, sneaking in a quick nap, soaking up the sun, snacking, and even enjoying a cute little board game to make the day even more special.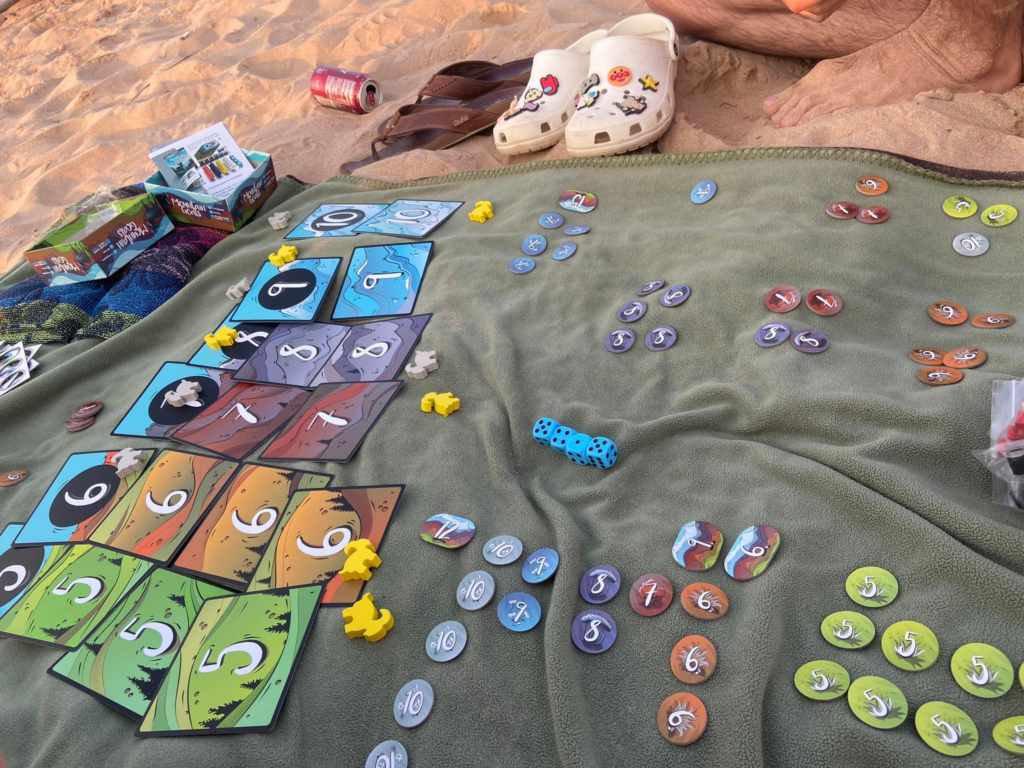 CAVENDISH BEACH.
Our visit to Cavendish Beach was part of our day-trip to Cavendish, as the name suggests! This beach didn't disappoint when it came to amenities, even offering an wheelchair ramp for added convenience (anybody who knows me knows how passionate I am about accessibility!). When we arrived, there was a Maritime Coach bus full of tourists, all busy capturing pictures and indulging in typical tourist activities. It was heartening to see them savouring the beauty of PEI as well!
As for the beach itself, there was a light scattering of seaweed and rocks, but once you ventured out past a certain point, these minor obstacles ceased to be an issue.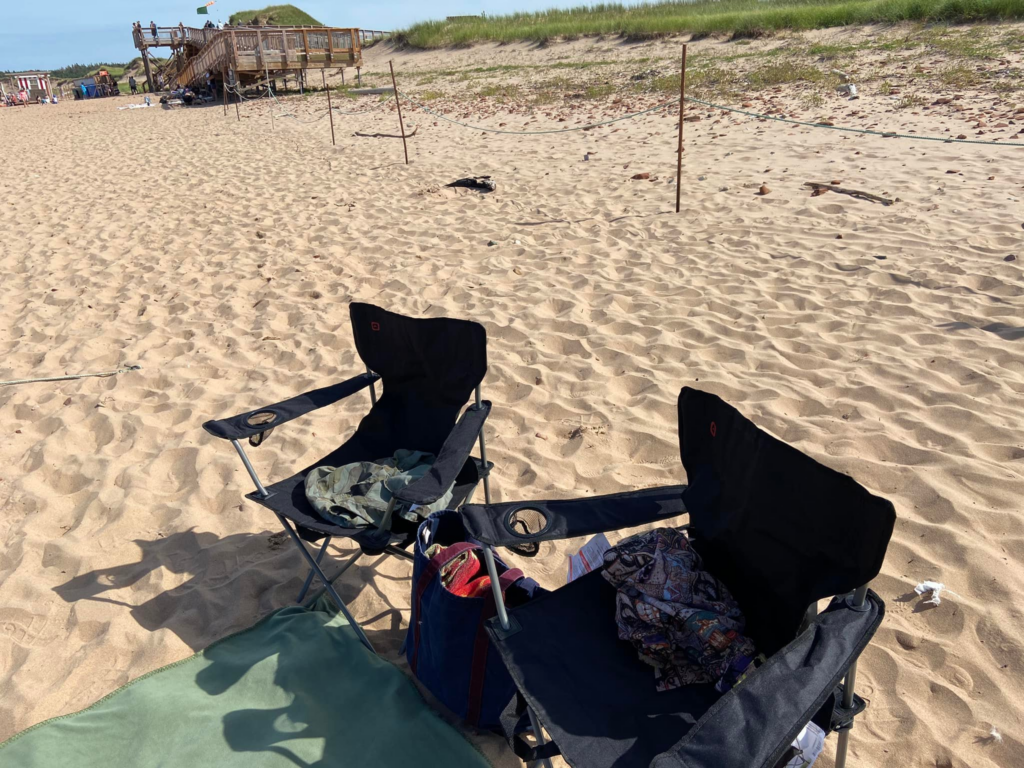 CAVENDISH (as a whole).
Moving away from the beaches, let's dive into Cavendish, often considered the second tourist capital of PEI. It's a hot spot, especially during the Cavendish Music Festival (not really my jam since I'm not a country music fan), but it remains a popular destination throughout the entire season.
We arrived bright and early, determined to make the most of our visit. Our first stop was Sandspit Amusement Park, where we grabbed our day-bracelets and immediately hopped on the rides! Sandspit had a variety of attractions, including go-karts (which was our initial choice), mini-golf, and aquatic bumper-karts.
There was this endearing moment while we were waiting in line for the rollercoaster when a fearless little girl told me I was going to regret it and needed to take a "chill pill." It was a cute exchange, and although the rollercoaster turned out to be a blast (and I believe it's the largest one in the Maritimes), it certainly lived up to its reputation for being lightning-fast, especially compared to the time spent waiting in line.
There was also a knock-off version of the Star-Trooper ride you find at Hinchey's Rides and Amusements. I can't recall the exact name, but it did its job as an amusement park ride, and I must admit, it left me feeling a bit queasy afterward (though thankfully, I didn't get sick!).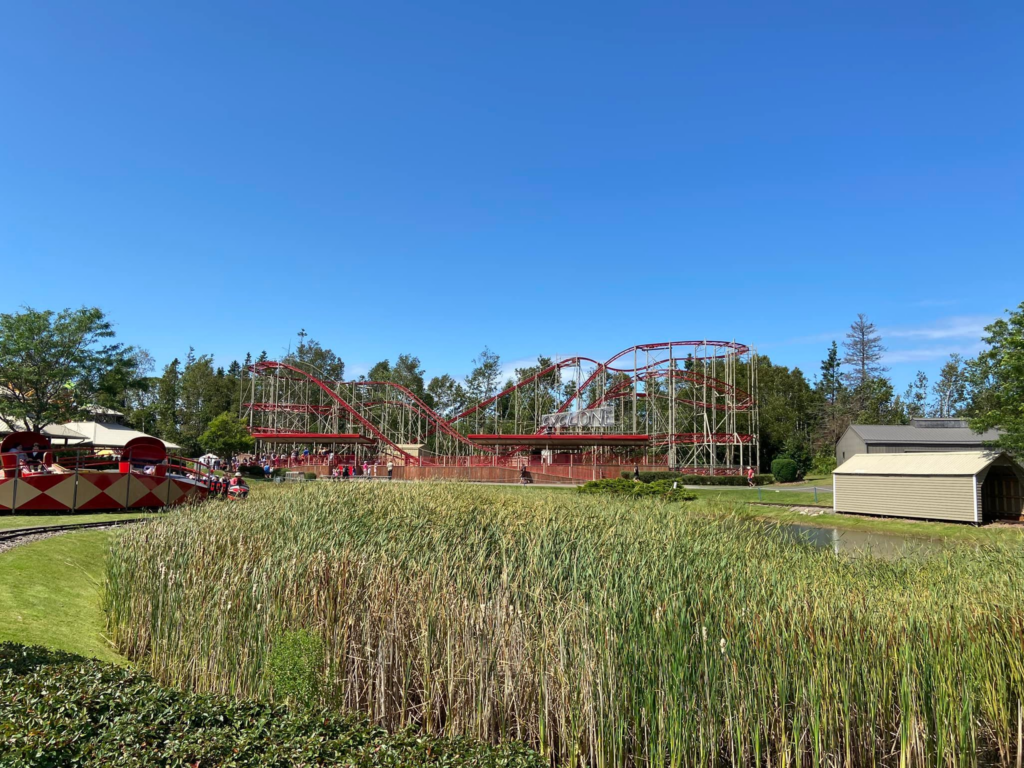 Cavendish Boardwalk was a lively and enjoyable spot, bustling with people shopping, dining, and indulging in all sorts of touristy activities. Our adventure kicked off at Teddy Bear Village, where we lovingly birthed our horse-child, Reginald. Stay tuned for more Reginald tales!
Next on our agenda was purchasing a beach umbrella (the very same one that met its end at Thunder Cove). We strolled through a few stores, with two standouts being COWS and a charming body-care shop that happened to be hosting an end-of-season sale. Along the way, we encountered some amusing surprises, like Sniper-Man.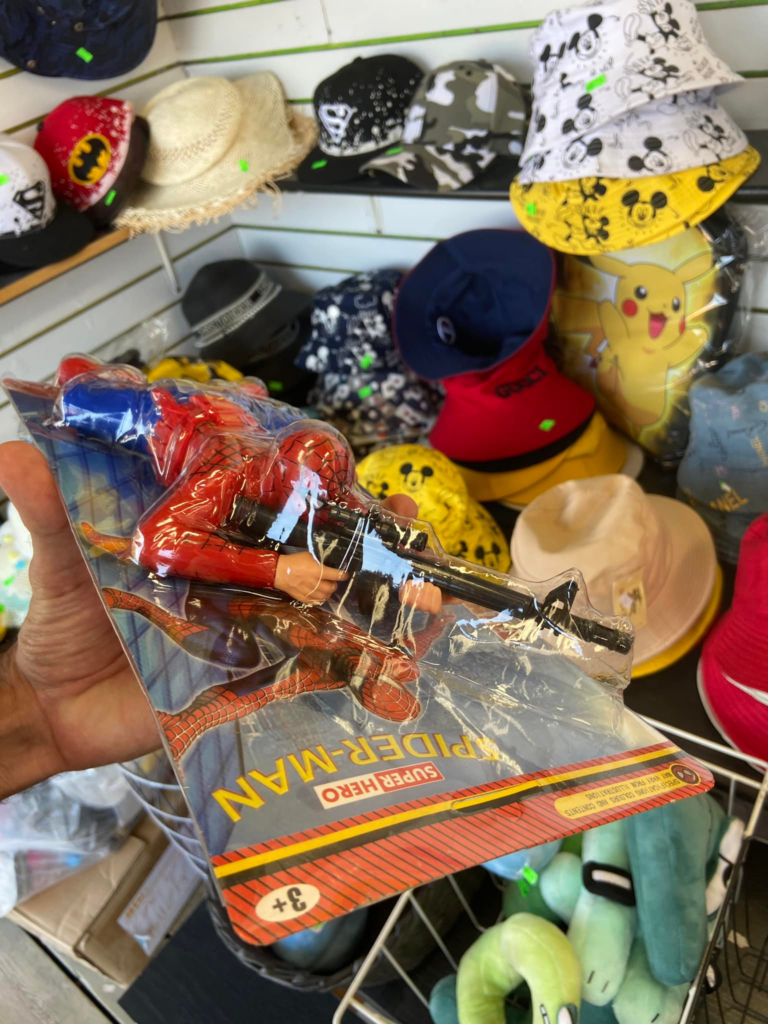 We couldn't resist the allure of black-light mini-golf, and it turned out to be a blast – with a sweet victory on my part (nyeh-heh-heh!). To top it off, I even managed to score a hole-in-one! There was a family of four in front of us, and another pair behind us, which caused for a little bit of awkwardness while waiting, but it wasn't that big of a deal.
THE FOOD.
Prince Edward Island certainly takes pride in its reputation for serving up some of the freshest seafood in Canada (although, to be fair, all the Maritime provinces make similar claims). However, what truly sets PEI apart is its exceptional potatoes and dairy products. During our stay, we had the chance to explore the world of "new potatoes" and discovered the subtle yet significant difference between new and fresh potatoes (yes, there is one!).
Our indulgence knew no bounds when it came to COWS ice cream – we even brought home four tubs of it as souvenirs from the COWS factory. And I must confess, I consumed my fair share of ADL chocolate milk, perhaps a bit too much!
Our dining experiences were a highlight of our trip, with each one leaving us feeling grateful for the culinary adventures we embarked on. One spot that stood out was Hunter's Ale House, a place I can't recommend highly enough. Their buffalo chicken sandwich was nothing short of amazing! Although Taco Boyz left me in pain, I would eat there again as the pain was very much worth it for such a good burrito.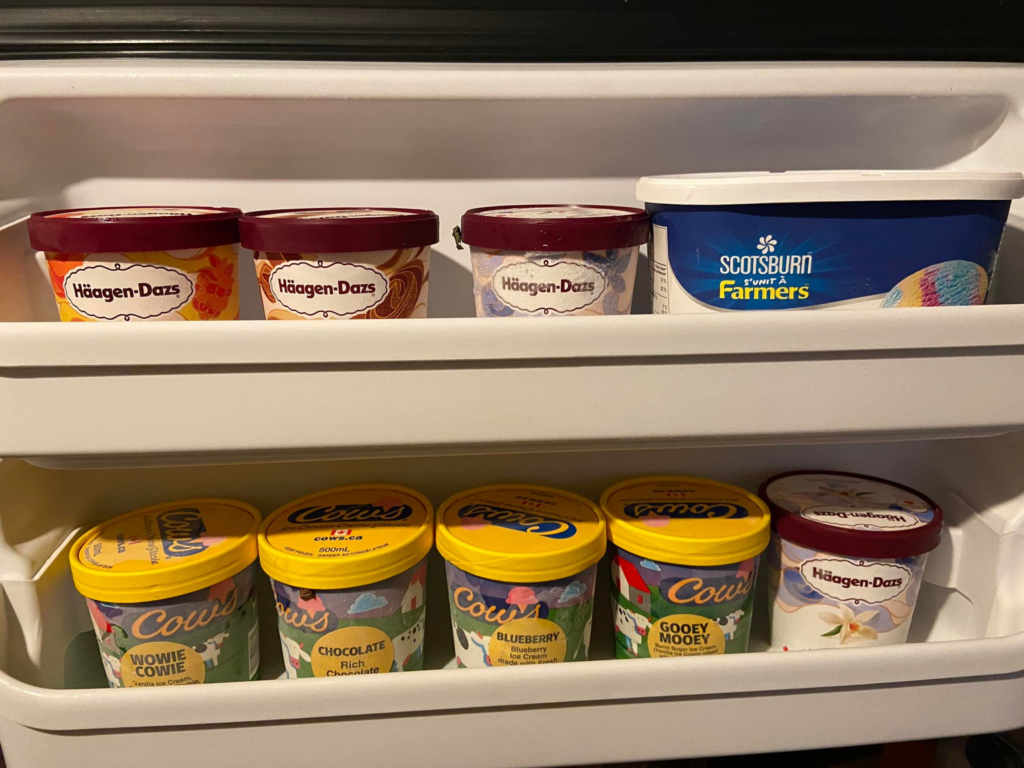 PONY BOAT.
Now, this is one thing that I specifically wanted to comment on. There is a "social club" in Charlottetown called Pony Boat, and from first glance we thought it was just a regular old arcade. What caught our eyes specifically was the Mario Kart Arcade GP DX cabinet, which we both have only ever heard about and never actually played. Upon entry, I began to take some photos when a staff member approached me and swiftly asked for my ID. Not a problem, but unfortunately I didn't have my bag with me, so I apologized and left.
At the end of our trip, we came back to Pony Boat. We were determined! As we entered, I was a little bit anxious, but I also found out why they had asked me for ID so quickly. At the back of Pony Boat sat a few slot machines, and it appeared they also sold alcohol. We went up to the front counter and got our change for some of the arcade cabinets and played a few games, I, of course, was especially fond of the Mario Kart one. While we were wrapping up our visit over a game of Guitar Hero, a staff member approached me and asked for my ID again, which I had on me, but funnily enough we were just leaving the establishment. I just found that kind of funny.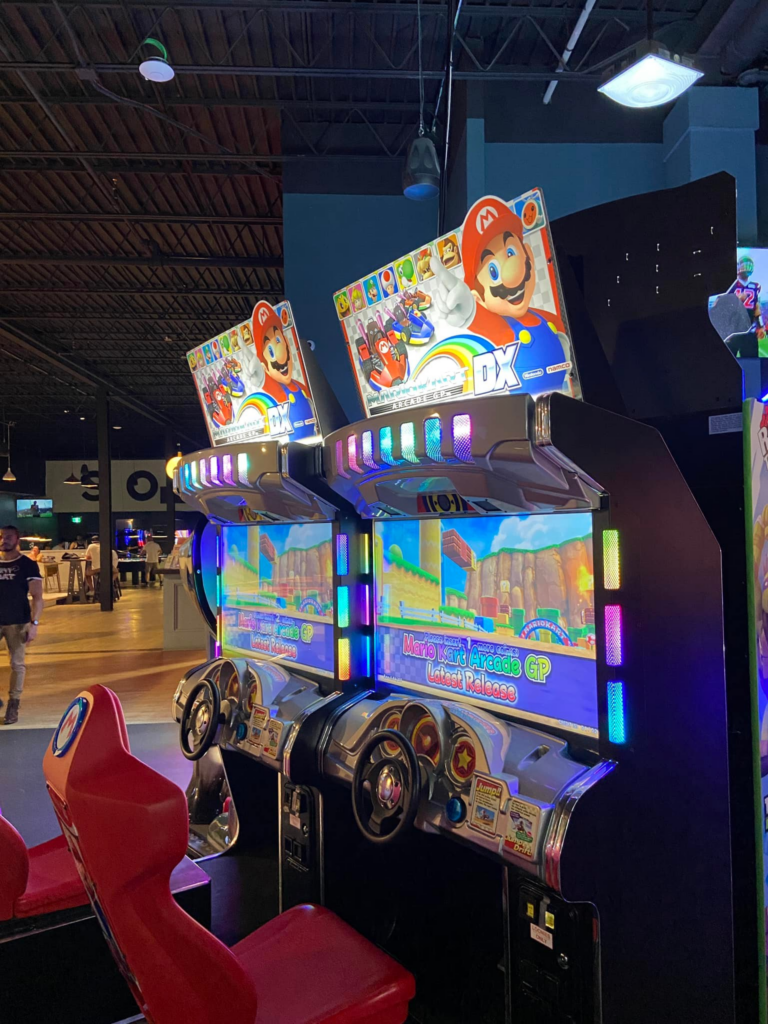 WAY BACK HOME.
I found myself apprehensive about the looming hurricane during our trip, specifically Hurricane Lee, forecasted to hit sometime between our last night and the morning of our departure. On a Saturday, we received word that our ferry for the following morning had been canceled, prompting us to reschedule for the afternoon. However, Sunday brought a similar cancellation notice, which left us pondering if we'd ever make it back to Cape Breton (though not exactly panicking, you get the idea).
With determination, we opted for an alternative route – the Confederation Bridge. And let me tell you, to those who had insisted that you couldn't see over the bridge barrier: your advice belongs in the realm of fiction. Crossing the bridge led us to Sackville, NB, where we made a pit stop at a dual Tim Hortons-Burger King establishment to savor a proper lunch.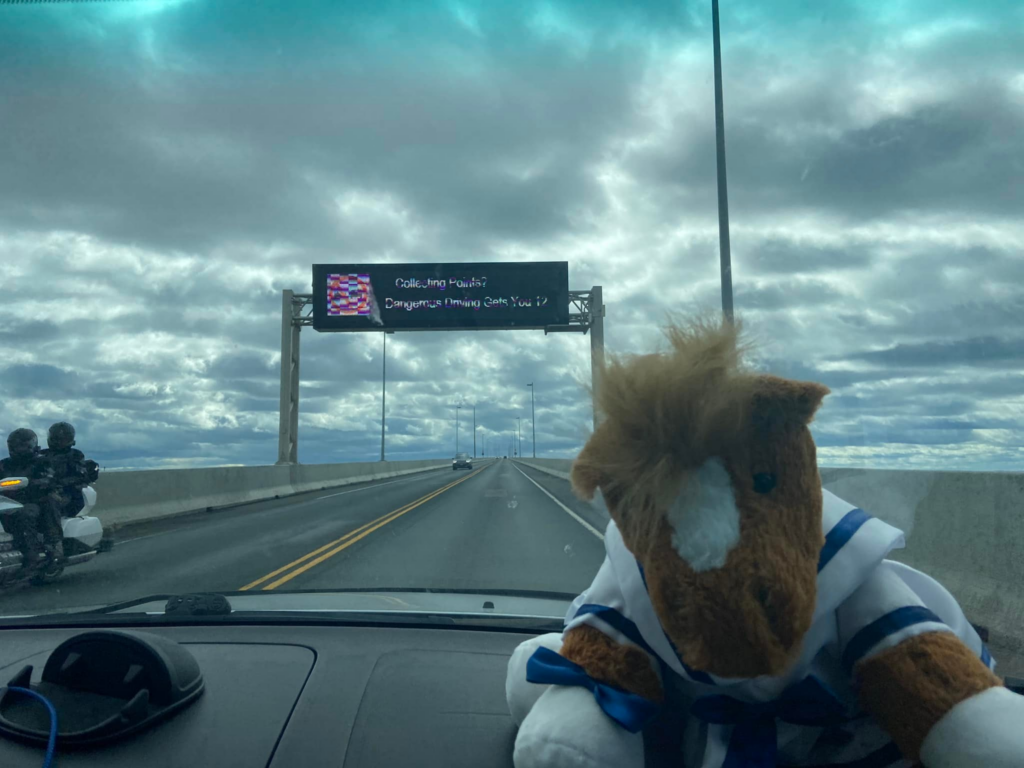 Our journey continued, eventually bringing us back to Sydney around 9 pm. After a quick visit to our Airbnb to drop off our luggage, we headed straight to my parents' house for a brief reunion.
Overall, we had a lot of fun in PEI and I can't wait to come back some day! Extra thanks to our generous and gracious Airbnb Hosts! I'm very much looking forward to our next trip.